Seán MacDiarmada Summer School 2014 Kiltyclogher Co Leitrim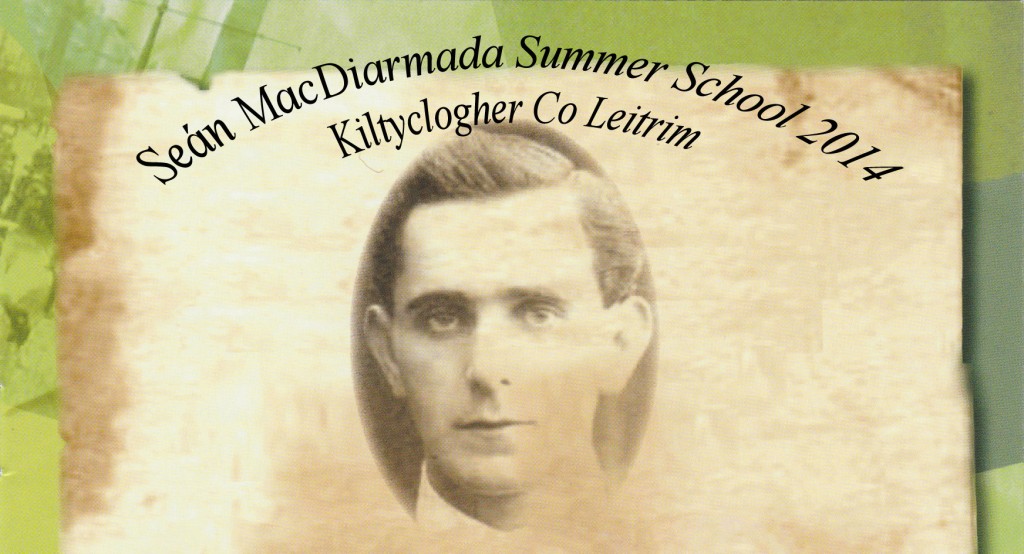 The Seán MacDiarmada Summer School 2014 took place on the 20th and 21st June 2014.
The opening ceremony of our 5th "Seán Mac Diarmada Summer School" took place at 6.00pm at the Seán MacDiarmada homestead. The Opening ceremony was officiated by Minister for Arts, Heritage and the Gaeltacht Mr Jimmy Deenihan.
The 2014 Seán MacDiarmada Summer School afforded an opportunity to political analysts and commentators, women's rights activists, arts practitioners, community volunteers and politicians of all persuasions to debate what form the 2016 commemoration should take in an Ireland which has witnessed the Good Friday Agreement, the coming of the British queen to Dublin and the first official visit of an Irish president to Britain.
Seán MacDiarmada was born on February 28, 1883 near Kiltyclogher, County Leitrim. He emigrated to Glasgow at the age of fifteen years. Returning to Belfast he was sworn into the Irish Republican Brotherhood (IRB) in 1908. He transferred to Dublin where he became a close personal friend of Tom Clarke. Together they later went on to form the military committee which would plan The Easter Rising which took place in 1916.
In 1910 he became manager of the radical newspaper Irish Freedom and as the national organizer for both the IRB and Sinn Féin he travelled extensively throughout the country. By November 1913 Mac Diarmada, who was one of the original members of the Irish Volunteers, continued to work to bring that organization under IRB control. In May 1915 he was arrested in Tuam, County Galway under the Defence of the Realm Act for giving a speech against enlisting into the British Army. He was released four months later. Mac Diarmada fought in the General Post Office during the 1916 Rising and was one of the seven signatories of the Irish Proclamation, the document issued by the IRB on April 24th, 1916 which proclaimed Irish independence from the United Kingdom of Great Britain and Ireland.
Along with the other six signatories to this declaration, MacDiarmada was executed in Kilmainham Jail, just three week later, on May 12th 1916. Seán MacDermott Street in Dublin is named in his honour, as is the railway station in Sligo. The GAA park in Carrick on Shannon, Páirc Seán MacDiarmada, is also named after him.
We wish to thank Leitrim Tourism Board  for supporting our Seán MacDiarmada Summer School.